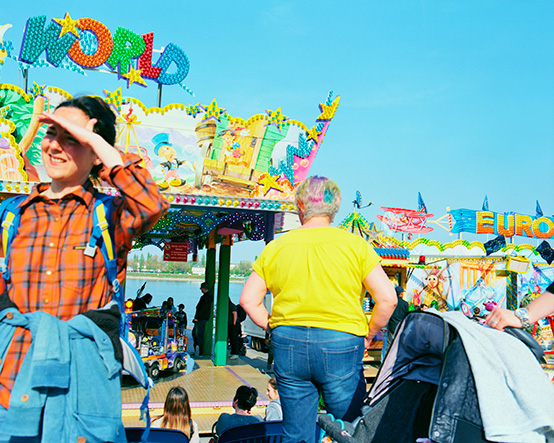 I moved to Bielefeld (Germany) in 2005 to study photography and media at the University of Applied Sciences, Faculty of Art and Design.
After my graduation in 2012 I moved back to southern Germany and did one semester in Media Art at the University of Arts and Design Karlsruhe (2013). Most of the time, I am working for magazines and companies. I love telling stories through photography and finding visual solutions for each project – that's for sure.
If you would like further information, please feel free to contact me.
---
THE GOODWINS Berlin GmbH, magma design studio, 2xGoldstein, Territory, muehlhausmoers, die ZEIT, ZEITmagazin Mann, brand eins Magazin, greenpeace magazin, SZ Familie, SZ Scala, Capital Magazin, Psychologie Heute, VOGUE Business, NEON Magazin, NIDO Magazin, GEO Wissen, GoogleMagazin, chrismon Magazin, DOGS Magazin, MINT Magazin, DBmobil, 11Freunde, 51Magazin, 1890 – Allianz Magazin, Aktion Mensch, Der SPIEGEL, Spiegel Wissen, Stiftung Buchkunst Frankfurt, Adam Wieland, ZKM – Zentrum für Kunst und Medien, Robert Bosch Stiftung, Böll.Thema – Das Magazin der Heinrich-Böll-Stiftung, Heimstiftung Karlsruhe, KVVH – Karlsruher Versorgungs-, Verkehrs- und Hafen GmbH, Südliche Weinstrasse e.V., Postbank, Max Joseph – Magazin der Bayerischen Staatsoper

09|2018 – 11|2018 »re–make«, Schrifthof, Karlsruhe
05|2017 – 06|2017 »siedlung leben«, Architekturschaufenster, Karlsruhe
02|2017 »Stand der Dinge – Sammlung Lindhorst-Emme«, Raum für drastische Maßnahmen, Berlin
12|2016 – 01|2017 »Mitgliederausstellung«, Badischer Kunstverein, Karlsruhe
07|2016 »Endstart«, Galerie Bohai, Hannover
06|2016 – 07|2016 »Der Andere und der Gleiche«, Biennale de la photographie de Mulhouse, Kunsthaus L6, Freiburg
05|2016 »huntenkunst«, SSP-Hal, Ulft (NL)
12|2015 »open studios«, Alter Schlachthof, Karlsruhe
06|2015 – 08|2015 »Stadtfenster«, Casa do José, Karlsruhe
04|2015 »22. Karlsruher Künstlermesse«, Regierungspräsidium, Karlsruhe
03|2015 »trinkwasser. Lebensgrundlage einer jungen Stadt«, Regierungspräsidium, Karlsruhe
09|2014 »Slideluck«, Cineporto, Lecce
09|2014 »Bitume Photobook«, Cineporto, Lecce
09|2014 »Bitume Photofest«, 0400, Lecce
05|2014 »Self Publish Riga«, Riga Photo Month 2014, Riga
04|2014 »The Carousel Collection«, SUB-URBAN Video Lounge, Rotterdam
03|2014 – 05|2014 »A Process«, Neue Galerie im Höhmannhaus, Augsburg
01|2014 »New Old Black Forest«, E-Werk, Freiburg
10|2013 Hagiso Gallery, Tokyo
09|2013 »Tokyo Art Book Fair«, Tokyo
09|2013 »Photocopy Club«, Wowohho Space, Hong Kong
12|2012 – 01|2013 »The Carousel Collection«, 45cbm – Studioraum der Staatlichen Kunsthalle, Baden-Baden
10|2012 »International Photography Awards«, Los Angeles
08|2012 »Photobookshow Brighton«, Brighton
07|2012 – 08|2012 »Photoville THE FENCE«, Brooklyn Bridge Park, New York
07|2012 »Werkschau« – exhibition, Faculty of Art and Design, Bielefeld
06|2012 »F/Stop Leipzig«, 5th Festival of Photography, Leipzig
04|2012 »International Photobook Dummy Award 2012«, Le Bal, Paris
01|2012 »Werkschau«, final degree show, Faculty of Art and Design, Bielefeld
06|2011 »International Street Photography Award«, German Gymnasium, London
11|2007 »Focus Award«, FH Dortmund, Dortmund

Paper Journal
YET magazine
Alexander Norton
Fastcompany – Fastcodesign
The Latent Image
Crap is good
STILL Magazin
5th Fotofestival Mannheim-Ludwigshafen-Heidelberg
trendhunter
…